Friday, August 24 – Saturday, August 25
Tuscaloosa River Market and Ferguson Center
The theme of the Blackburn Institute's 2018 Annual Symposium, "Navigating Change: Governing, Leading, and Advocating," will highlight the challenges of making a positive impact during times of tumultuous political and social change. Attendees will hear from speakers and panelists working to affect positive change in the state of Alabama, including those of the majority or minority parties, as well as issue advocates from outside the political system. Content sessions will offer perspecives on how to map the landscape of an issue, to understand magnet factors – things likely to pull people towards change – and fear factors that create resistance to change, and to engage skeptics in change processes.
The event, held over a two-day period in late August, continues traditions familiar to those who have attended symposium in the past, builds on successful recent innovations, and re-formats the content session blocks for a wider range of topics and session styles. Attendees will see opportunities for both peer gatherings and full-community networking through meals, planning sessions, and dialogue activities.
Includes schedule, session descriptions, attendees, venue, hotel, and parking information
Keynote Speaker (Gloria and John L. Blackburn Academic Symposium)
One of the many highlights for the weekend will be the keynote public lecture delivered as the closing event for the symposium.  This address will feature Mr. George F. Will in the Ferguson Center Ballroom, Saturday, August 25, 3:00-4:00 P.M.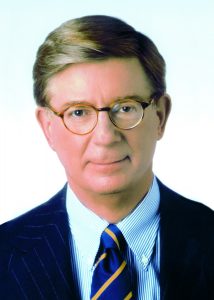 George F. Will is today's most widely read columnist. His newspaper column has been syndicated by The Washington Post since 1974. Today, it appears twice weekly in approximately 500 newspapers in the United States and in Europe. In addition, he currently serves as a contributor for MSNBC and NBC News. In 1976, he became a regular contributing editor of Newsweek magazine, for which he provided a bimonthly essay until 2011.
In 1977, he won a Pulitzer Prize for commentary for his newspaper columns. Altogether eight collections of Will's Newsweek and Washington Post columns have been published, the most recent being One Man's America. In 1990, Will published Men At Work: The Craft of Baseball, which topped The New York Times best-seller list for two months and was most recently reissued on April 13, 2010 as a 20th Anniversary special edition with a new introduction (paperback). In 1998, Scribner published Bunts: Curt Flood, Camden Yards, Pete Rose and Other Reflections on Baseball, a best-selling collection of new and previously published writings by Will on baseball. His new book, A Nice Little Place on the North Side: Wrigley Field at One Hundred, was released March 25, 2014. Will was a member of Major League Baseball's Blue Ribbon Panel, examining baseball economics.
For 32 years, beginning as a founding member in 1981, he was a panelist on ABC television's This Week with George Stephanopoulos. Will was born in Champaign, Illinois, educated at Trinity College in Hartford, Connecticut, Oxford University and Princeton University, where he earned his Doctor of Philosophy degree. He has taught Political Philosophy at Michigan State University and the University of Toronto. Will served as a staff member in the United States Senate from 1970 to 1972. From 1973 through 1976, he was the Washington editor of National Review magazine. Today, Will lives and works in Washington.
---
Non-Student Attendees (as of 8:15am on 08/16/2018)
Advisory Board and
Blackburn Society
Baldwin, Norman
Blackburn, Gloria
Briddell, Michael
Carroll, Mary Margaret
Covington, John
Cramer, Kathleen
Davidson, Bradley
Harris, Robert
Heflin, Cornelia
House, Mike
Jones, Bryan
Lewis, Matthew
Lowe, Peter
Martin, Gordon
Martin, Mark
Matthews, Warren
McCracken, Amanda
McNair, Stephen
Morrow, Martha
Myers, Rick
Nichols, Taylor
Nix, Marjorie
O'Neal, Larry
Piper, Holly
Saxon, John
Siegal, Bobbie
Siegal, Don
Smith, Alex
Smith, Christian
Smith, Lynwood
Sorrell, Will
Stewart, Donald
Thibodaux, Lou
Vallely, Lynne
White, Joshua
Wuska, Jackie

Fellows
Allenlundy, Chisolm
Bensinger, Olivia
Boylan, Robert
Carroll, Anna
Davidson, Bradley
Flachsbart, Alex
Foster, Ben
Glenn, Eule
Griffith, Martha
Hammontree, John
Harris, Robert
Key, Kendra
Lewis, Matthew
Marquez, Amy
Martin, Mark
McCracken, Amanda
Nichols, Taylor
Pendley, Robert
Pruitt, Lee
Ransom, Kellee
Ransom, Tracie
Sharif, Rashmee
Shook, Caroline
Smith, Christian
Sorrell, Will
Sweeney, Dana
Terry, Leigh
Tucker, Will
van Wyhe, Ada Katherine
White, Joshua

Spouses and Guests
Allen, John
Bell, Stuart
Bensinger, Adam
Bonifacio-Sample, Dana
Clark-Holland, Veronica
Daniels, Anthony
Grady, David
Hankins, Ryan
Harris, Presedelane
Heflin, Tom
Holland, W. Stan
Larson, Barbara
Leitner, Allison
McLelland, Lane
Morrow, Johnny Mack
Newman, Bradley
Nichols, Taylor
O'Neill, Tiffany
Pierce, Robert
Prevost, Suzanne
Rigby House, Gina
Salazar, Timothy
Saxon, Betsy
Sharpe, Shane
Siddiqui, Nadeem
Smith, Donna
Smith, Suzann
Smith, William, II
Sterritt, Adam
Stewart, Priscilla
Thibodaux, Paul
Walker, Randy
Will, George
Wright, Meghan

---
Blackburn Fellows

Early Registration – Before July 1, 2018 – $50.00
Regular Registration – July 1-31, 2018 – $75.00
Late Registration – August 1-17, 2018 – $90.00

Blackburn Advisory Board

Early Registration – Before July 1, 2018 – $50.00
Regular Registration – July 1-31, 2018 – $75.00
Late Registration – August 1-17, 2018 – $90.00

Blackburn Students

Early Registration – Before July 1, 2018 – FREE
Regular Registration – July 1-31, 2018 – FREE
Late Registration – August 1-17, 2018 – $50.00
---