The theme for this year's symposium is "The Engaged Citizen: Working for a Better Alabama and Nation" and it will present opportunities for the Blackburn community to learn about the roles and responsibilities of individuals in political campaigns, how candidates connect with and engage the electorate, how citizens can discern fact from opinion in the media, and other relevant topics. Our hope is to inspire symposium participants to take informed action on their values through active citizenship and political engagement. Throughout the event, our content sessions and discussions will highlight issues of relevance both to the state of Alabama and the nation. This year's event continues traditions familiar to those who have attended symposium in the past, builds on successful recent innovations, and re-formats the content session blocks for a wider range of topics and session styles. Attendees will see opportunities for both peer gatherings and full-community networking through meals, planning sessions, and dialogue activities.
Friday, August 26 – Saturday, August 27
This year's event will be held in Tuscaloosa, Alabama at the Ferguson Student Center.
Program Guide
Includes schedule, session descriptions, attendees, venue, hotel, and parking information.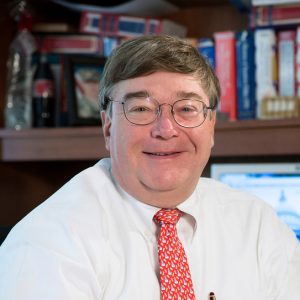 Gloria and John L. Blackburn Academic Symposium
One of the many highlights for the symposium will be the keynote address to be delivered by Charles E. Cook, Jr., editor and publisher of The Cook Political Report. Founded in 1984, the newsletter publishes analyses of the primaries and general elections for federal political offices and state governorships. Held in high regard by journalists and media outlets, The Cook Report is also considered authoritative by both major political parties. Mr. Cook is a graduate of Georgetown University and, in addition to his numerous professional awards, has also served as a resident fellow at the Institute of Politics at the Kennedy School of Government at Harvard University. Using poll numbers, economic indicators, and historical data, Mr. Cook analyzes elections in a balanced, non-partisan manner and provides audiences with the concrete information they need to understand today's political and legislative environments.
Registration
Blackburn community members (students, Fellows, Advisory Board, and Blackburn Society) and invited guests my resister through the event website on RegOnline.
No registration necessary for public lectures.
Blackburn Fellows

Early Registration – Before June 30, 2016 – $50
Regular Registration – July 1-31, 2016 – $75
Late Registration – After August 1, 2016 – $90

Blackburn Advisory Board

Early Registration – Before June 30, 2016 – $50
Regular Registration – July 1-31, 2016 – $75
Late Registration – After August 1, 2016 – $90

Blackburn Students

Early Registration – Before June 30, 2016 – FREE
Regular Registration – July 1-31, 2016 – FREE
Late Registration – After August 1, 2016 – $50