2021-21 Student Officers (March 2021 – February 2022)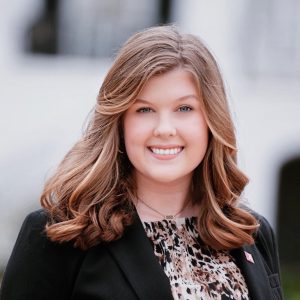 Chairperson
Acts as the official student spokesperson for the institute.
Provides general leadership and presides over all Student meetings.
Serves as the liaison between Students, the Leadership Team, and the Advisory Board.
Together with the Vice-Chairperson, organizes informal gatherings that promote dialogue and community among Students.
Mary Eliza Beaumont is a sophomore from Homewood, Alabama and is excited to be serving as next year's Chairperson. She is currently majoring in environmental science and minoring in political science. She is involved in the service organization Al's Pals, volunteers as a storybook illustrator for Reading Allies, serves as a member of the Environmental Council, and enjoys participating in the Art Club. She is also the Director of Campus Outreach on SGA's Environmental Affairs Cabinet where she works to serve students and better the campus as a whole. She is also an active member of Alpha Omicron Pi fraternity where she serves as the Assistant House and Sustainability Chairs. She also works to raise money for their philanthropy, the Arthritis Foundation, which helps kids with arthritis and teaches families how to better care for their children after a diagnosis. Outside of classes and extracurricular activities, she enjoys attending speaker panels on campus, dancing, and creating art. After graduating from the University of Alabama, Mary Eliza plans to attend law school and pursue a career in environmental policy law.
Vice-Chairperson
Presides over meetings of Students in the absence of the Chairperson.
Together with the Chairperson, organizes informal gatherings that promote dialogue and community among Students.
Trinity Hunter is a sophomore from Montgomery, Alabama. She is double majoring in Public Relations and Political Science with an interest in non-profit work. Beyond her time in the Blackburn Institute, Trinity serves as Deputy Chief of Staff of the Student Government Association and Diversity, Equity, and Inclusion Officer in her sorority, Chi Omega. Furthermore, she is the Assistant Director of Communications in Not On My Campus, a sexual assault prevention organization, as well as co-president of League of Women Voters UA, a non-partisan group intent on increasing voter registration among marginalized groups. Trinity is also a writer for HerCampus at Alabama, which is a chapter of the #1 media portfolio for college students and Gen Z. Finally, she is a proud member of both the Elliott Society and Lambda Sigma Honor Society. Beyond her involvement on campus, Trinity enjoys volunteering as a member of the College Staff through the AL YMCA Youth in Government programs which involve high schoolers' immersion into and education of mock state government proceedings. During her free time, she enjoys baking, watching Netflix, and spending time with her peers. Trinity is more than excited, as well as honored, to serve Blackburn as Vice Chairperson in the upcoming year.

Communications Director
Internally publicizes all Institute activities and personal achievements of Blackburn Students and Blackburn Fellows (via Facebook, email, telephone, etc.).
Provides appropriate external individuals, departments, and media with relevant information regarding Institute activities and events (i.e. press releases, event descriptions, post-event summaries, etc.).
Coordinates the gathering of information for the website and publications.
Alli Swann is a junior from Tuscaloosa, Alabama, double majoring in political science and English with a minor in social innovation and leadership. She is a part of the University Fellows Experience and devoted her May of 2019 to serving in Marion, Alabama where facilitated a youth leadership and civic engagement camp focused on uniting middle-school students under a shared passion for their community. On-campus, she is also involved in Vote Everywhere, Honors College Ambassadors, and serves as a student recruitment  intern in the Honors College. Alli is passionate about serving her home community of Tuscaloosa and has been involved with Impact America's SaveFirst initiative and is currently a "big" with Big Brothers Big Sisters of West Alabama. Her internship experience at the Tuscaloosa County Courthouse piqued her interest in child advocacy and public interest law. Following her graduation in May of 2022, Alli aspires to attend law school where she hopes to further cultivate her passion for juvenile, civil rights, and public interest law. Outside of the classroom, she enjoys reading, listening to podcasts, and spending time with her little brother.