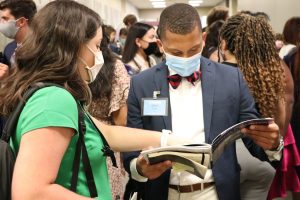 At the core of the Blackburn experience is the curriculum that guides new students through their first year with the institute. This curriculum is designed to reinforce leadership development, learning, and civic outcomes aligned with overarching  values of the Blackburn Institute. Starting with their selection in the spring semester, new students are guided through a one-year curriculum that introduces them to the vision, mission, and values of the institute; builds their personal and professional skills; provides them with opportunities for authentic relationship-building with possible mentors; engages them in civic work to improve the campus or Tuscaloosa community; and challenges them to actively listen to and understand diverse points of view.
New Student Curriculum
Included in the curriculum are several mandatory events, including:
In addition, selected students commit to the following activities:
An advising meeting each semester, fall and spring, with Blackburn Institute staff members;
Group work necessary to research and plan (fall semester) and implement (spring semester) a class civic engagement project (Daniel Community Scholars Project); and
Monthly small-group meeting (Small Group Values Discussion) on a Monday-Thursday evening (September, October, November, and February).
For more information on the student curriculum review the Student Resource Book 2021.
Expectations of Blackburn Membership
Blackburn students are nominated and selected from current undergraduate, graduate, and professional students who have demonstrated leadership potential. Students must be enrolled and in good standing at The University of Alabama. Students are expected to participate actively in the institute's curriculum to remain in good standing with the organization.
Selection as a Blackburn student does not automatically assure that one will be named a Blackburn Fellow upon graduation. The removal of a Blackburn student may be carried out for the following reasons:
The student's lack of participation in institute activities. Lack of participation is defined as the failure to complete required components of the first-year curriculum or to participate in any Blackburn Institute activities for a three-month period (excluding May, June, and July).
The students is no longer enrolled or in good standing at The University of Alabama.
At the student's request.