The Fellows Involvement Network (FIN) promotes active participation in Blackburn Institute events and serves to advance the mission of the Blackburn Institute, serving as an active mechanism to connect Fellows to each other, Blackburn students, and the Advisory Board.
Fellows select officers from among themselves to act as liaisons to the Blackburn Institute staff and the Advisory Board. These officers serve two-year terms, based on the academic calendar (August to July of even years). FIN officers are expected to participate actively in Institute events and attend Advisory Board meetings, as well as build programming and networks to support the mission of the Blackburn Institute.
Chairperson
Acts as the official spokesperson for the Fellows.
Provides general leadership and presides over all meetings of Fellows.
Responsible for overall coordination of the network's activities, goal-setting, fundraising plan, and reporting.
Serves as the liaison between Fellows and communicates regularly with the institute staff and Chairperson of the Advisory Board.
Provides updates to the Advisory Board at its semi-annual meetings.
Solicit volunteers for and create positions (e.g. Regional Coordinators and/or Class Coordinators) as necessary to extend the reach and impact of the Fellows Involvement Network.
Assumes responsibility for the Fellows' continued development through participation in Institute activities.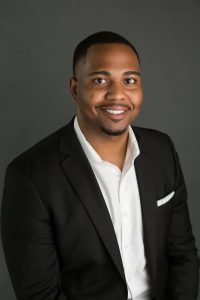 James Kemp, Jr., a native of Birmingham, Alabama, graduated summa cum laude with a degree in finance in 2015. James immediately continued on to earn his MBA with a concentration in strategic management and marketing from UA's Manderson Graduate School of Business. James' passions have always been organizational operations, finances, leadership, and civic engagement. While at UA, James served as treasurer for UA's chapter of the NAACP and the Mortar Board honor society. He helped start and served as president for a honor society type organization for minority men called GGC with the purpose of developing a network of young men all looking to make a positive impact on the University and each other. James currently serves as business operations manager for Kemp Management Solutions, LLC, a regional project management and consulting firm based in Birmingham. His responsibilities include managing the firm's finances, overseeing its marketing strategies, maintaining and developing the firm's IT structure, and providing delivery support on client accounts as needed. James became a member of the Birmingham Rotaract Club in June 2018. He married his beautiful wife Jasmine in October 2017 and they now reside in the Crestwood neighborhood of Birmingham.
---
Internal Vice-Chairperson
Manages activities that are related to events intended solely for Fellows.
Coordinates with institute staff on the assessment of the network and Fellows' activities.
Coordinates the gathering of information for use by institute staff on the website and in publications.
Internally publicizes all Institute activities and personal achievements of Blackburn Fellows through social media and, with the support of the Chairperson, e-mail.
Works closely with the Chairperson of the Student Selection Committee of the Advisory Board to encourage the involvement of Fellows in the selection of new students and scholarship and award recipients.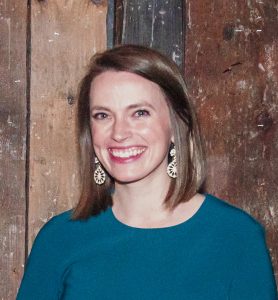 Caroline Shook is a 2011 Blackburn Fellow and 2014 alumna of The University of Alabama. A marketing and French double major with a minor in public relations, Caroline was involved in a variety of activities on and off campus. Caroline both worked in the Blackburn office and served as a student officer during her undergraduate experience. After graduation, Caroline served as Press Secretary for a Democratic gubernatorial campaign. After the campaign, she joined the staff of the Alabama Humanities Foundation, the state affiliate of the National Endowment for the Humanities. The organization fosters learning, understanding, and appreciation of our people, communities, and cultures through programming in all 67 Alabama counties. At AHF Caroline was involved in handling the organizations social media and press relations as well as planning the annual awards luncheon. Currently Caroline lives in Birmingham and is the Social Media and PR Coordinator for Vineyard Brands, a leading, cutting-edge wine importer of more than 70 brands from around the world. Her responsibilities include handling social media for the company as well as managing press relations and national events. She is also uses her French degree to communicate with producers throughout France. Caroline is also involved in her community with the Cathedral Church of the Advent, attends and helps organize as many Blackburn Fellow events as possible, and is a supporter of the arts as a former member of the Alabama Ballet Junior Board.
---
External Vice-Chairperson
Manages activities that are related to events involving students and other non-Fellows. This would include, for example, opportunities for involvement at the summer networking event. Additionally, this individual would be responsible for promoting campus-based institute events open to Fellows.
Provides appropriate external individuals, departments, and media with relevant information (e.g. press releases, event descriptions, and post-event summaries) regarding Fellows' activities and events.
Works closely with the Chairperson of the Policy and Finance Committee of the Advisory Board to encourage the involvement of Fellows in identifying external sources of financial support for the institute.
Ben Jackson, External Vice-Chairperson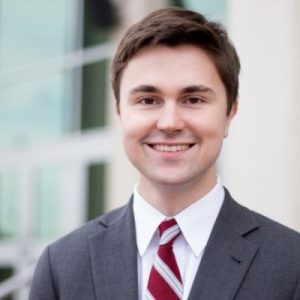 Ben Jackson is from Birmingham, Alabama and is a 2018 graduate from The University of Alabama's Culverhouse College of Commerce where he majored in finance with a specialization in value investing. While at Alabama, he was actively involved on campus. Ben served as the Portfolio Manager and Vice President of Investment Research for the Culverhouse Investment Management Group, a student led investment fund, and he additionally served as the Chief of Staff for the Student Government Association under the Lillian Roth Administration. He was a member of both ODK and the Anderson Society. Ben currently lives in New York City where he is an Equity Research Associate for Barclays Investment Bank. He is passionate about issues surrounding food scarcity and economic development in the state of Alabama.