Fellows elect officers from among themselves to act as liaisons to the Blackburn Institute staff and the Advisory Board. These officers serve two-year terms, based on the academic calendar (August to July of even years). Officers are expected to participate actively in Institute events and attend Advisory Board meetings, as well as build programs and opportunities to support the mission of the Blackburn Institute.
Chairperson
Acts as the official spokesperson for the Fellows.
Provides general leadership and presides over all meetings of Fellows.
Responsible for overall coordination of the network's activities, goal-setting, fundraising plan, and reporting.
Serves as the liaison between Fellows and communicates regularly with the institute staff and Chairperson of the Advisory Board.
Provides updates to the Advisory Board at its semi-annual meetings.
Solicit volunteers for and create positions (e.g. Regional Coordinators and/or Class Coordinators) as necessary to extend the reach and impact of the Fellows Involvement Network.
Assumes responsibility for the Fellows' continued development through participation in Institute activities.
Amber Scales

Amber Scales, she/her, (amberscales15@gmail.com) is an impactful storyteller working to build community, inspire resistance, and foster restorative justice. A daughter of the deep south, Amber's work as a storyteller is anchored in intersectional advocacy that uplifts the voices of marginalized people through the creation, curation, and celebration of everything that makes them unique. As a social impact strategist, Amber examines systems of inequity and then offers innovative solutions through strategic programs, initiatives, campaigns, and art. In these efforts has worked as a professional actor and teaching artist, Social Impact Assistant at the John F. Kennedy Center for the Performing Arts, and Partnerships and Engagement Coordinator at WP Theatre. Amber believes wholeheartedly in the power of thoughtful storytelling and performance to create a better, more just society and spends most of her time working creatively to do just that. She is currently the Creative Project Manager at Fair Fight Action where she continues to use both her professional and personal work as avenues to support the acts of creation needed to foster positive change in vulnerable populations. Amber holds a Bachelor of Arts in Public Relations from the University of Alabama and has returned to the Capstone to pursue a Master's in Communication Studies. Her research investigates the performing arts as a form of autoethnographic narrative inquiry that can serve as a vehicle for reconciliation in landscapes of contested public memory, as well as the role of marginalized people in the production of cultural and political rhetoric. Amber is involved in her community in numerous ways including as a grants panelist at the Lewis Prize for Music and a member of Alpha Kappa Alpha, Sorority, Inc.
Internal Vice-Chairperson
Manages activities that are related to events intended solely for Fellows.
Coordinates with institute staff on the assessment of the network and Fellows' activities.
Coordinates the gathering of information for use by institute staff on the website and in publications.
Internally publicizes all Institute activities and personal achievements of Blackburn Fellows through social media and, with the support of the Chairperson, e-mail.
Works closely with the Chairperson of the Student Selection Committee of the Advisory Board to encourage the involvement of Fellows in the selection of new students and scholarship and award recipients.
Kyle Van Frank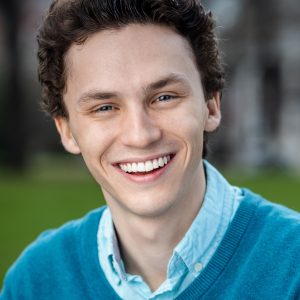 A 2017 Blackburn Fellow, Kyle Van Frank (kylevanfrank901@gmail.com) graduated from The Capstone in 2019 with a BA in Theatre, concentration in Musical Theatre and a double minor in Political Science and Spanish. In that same year, Kyle received UA's highest undergraduate honor, the Algernon Sydney Sullivan Award for "excellence of character and service to humanity." With core values of honesty, service, and compassion, Kyle has cultivated a personal philosophy of listening and offering sustainable solutions to any task set before him. Both during and after college, Kyle pursued a career in the arts and culture industry, working across the country as a professional actor, director, teaching artist, and writer. Kyle's work has taken him to theatre companies in Alabama, Colorado, Florida, Nebraska, New York, and Tennessee. While at UA, Kyle was actively involved with UA Theatre and Dance, SGA, Alpha Psi Omega, and Blackburn Institute. In addition to performing in department productions, Kyle worked as the Student Coordinator of Recruitment and Retention where he staffed and planned the department's audition days, developed a student-led ambassador program, and wrote marketing copy for the management office. Kyle received the Marian Galloway Performance, Dr. Edmond Williams Academic, and Dr. Judy Bonner Leadership awards from UA Theatre and Dance, as well as the College of Arts & Sciences Dean's Merit Award. From 2019-2021, Kyle worked at the Florida Studio Theatre where he performed and taught with their award-winning Write a Play program, which teaches playwriting to K-12 students across the globe. Additionally, Kyle directed the On-Deck Sketch Team, performed in MainStage Improv, and directed readings of new plays. After working and living in Florida for two years, Kyle has returned to higher education to pursue his Master of Science in Nonprofit Leadership, concentration in Mission-Driven Operations and Management from the University of Denver's University College. While in school, Kyle is also working full-time as the Director of his alma mater, St. Benedict at Auburndale in Memphis, Tennessee. After graduation, Kyle hopes to continue to work in fundraising for arts and education organizations and eventually own and operate his own consulting firm to help nonprofits to realize their missions to greater degrees. Outside the arts and social justice, Kyle is passionate about sustainability and the environment. His work with philanthropy and community programming has given him the privilege of working with such organizations as Five Horizons Health Services, Memphis Food Bank, Wings Cancer Foundation, Diocese of Memphis Jubilee Schools, West Alabama Food Banks, Tuscaloosa County Schools, Community Foundation of Sarasota, school systems across Southern Florida, and more.
External Vice-Chairperson
Manages activities that are related to events involving students and other non-Fellows. (This would include, for example, opportunities for involvement at the summer networking event. Additionally, this individual would be responsible for promoting campus-based institute events open to Fellows.)
Provides appropriate external individuals, departments, and media with relevant information (e.g. press releases, event descriptions, and post-event summaries) regarding Fellows' activities and events.
Works closely with the Chairperson of the Policy and Finance Committee of the Advisory Board to encourage the involvement of Fellows in identifying external sources of financial support for the institute.
Whitney Miller Nichols
Whitney Miller-Nichols (wdmnichols@gmail.com) serves as Governmental Affairs Director for the School Superintendents of Alabama. In addition to advocacy responsibilities on behalf of Alabama school superintendents, her professional duties include policy development, external communications and social media. A native of Chelsea, AL, Whitney received her BA in Advertising in 2006 and MA in Secondary Education in 2011, both from the University of Alabama. She has wide-ranging professional experience, including commercial real estate management, secondary classroom instruction, and development of continuing education for school board members.